We know that you don't want anything to go wrong on your special day. To keep that from happening, we have a list of essential supplies to have for the wedding and wedding reception.
Just follow our checklist to make your own emergency kit so you'll be prepared for anything that could happen on your wedding day!
See our gallery of past weddings at Royal Palace Ballrooms in Hialeah.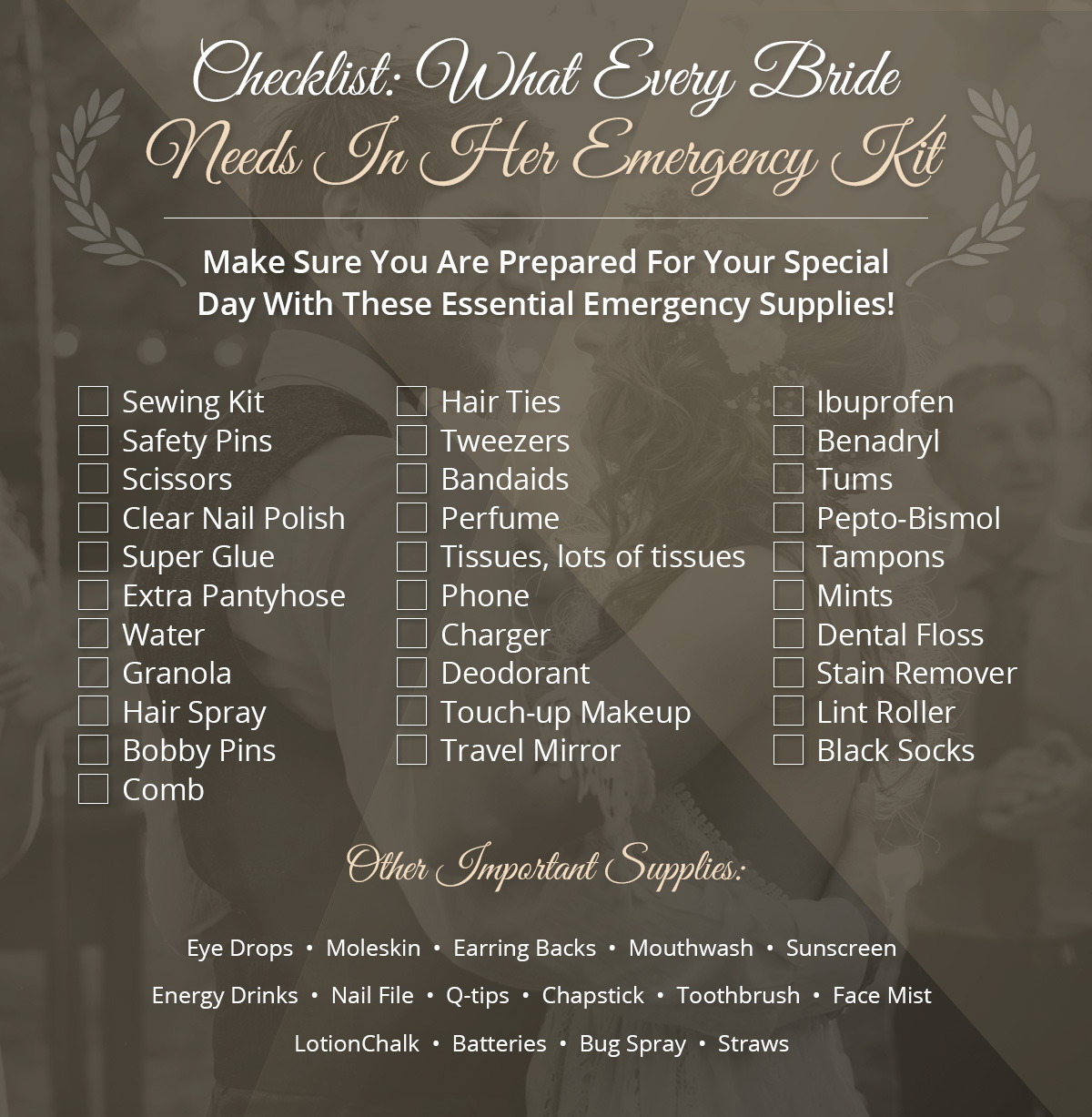 Sewing Kit and Safety Pins
This will help with any sudden rips, loose thread, or extra fabric that needs to be pinned back.
Scissors
There is always something that requires a pair of scissors. Make sure you have a pair handy throughout the day.
Clear Nail Polish and Super Glue
These will stop tights from tearing further or fix anything that decides to break on your special day.
Extra Pantyhose
When clear nail polish won't do the trick, have an extra pair of pantyhose on hand.
Water, Granola, and Caffeine
With all of the wedding preparation, make sure you have enough food and water throughout the day! The caffeine will make sure you last through the wedding and wedding reception.
Hair Essentials
This includes hair spray, bobby pins, comb, hair ties, and tweezers. As the bride, your hair needs to look good all day because you'll be the center of attention all evening. Make sure you don't  have a hair out of place for any pictures you take throughout the night.
Bandaids
Whether it's a blister from those heels or something else, have some bandaids for anything you or your bridal party needs, especially when it's time to dance at the wedding reception.
Perfume
Make sure you have perfume on hand to keep reapplying throughout the night.
Tissues
This will be a day filled with emotion. Make sure you are never far away from some tissues. Have someone in your bridal party be in charge of holding tissues for you!
Phone and Charger
Odds are, you and your bridal party will take plenty of pictures. Don't forget your phone and a charger so your battery will last through the wedding reception.
Deodorant
In addition to the emotion, this special day might make you nervous. Have extra deodorant for re-application.
Touch-up Makeup
Have extra makeup to retouch your makeup when it starts to wear.
Small Mirror
You might find yourself in a room without a mirror. Make sure you have a mirror to check your makeup and hair.
Medicine
While it might be your special day, you or your bridal party might not feel one-hundred percent. Make sure you stock up on medications like ibuprofen, Benadryl, Tums, and Pepto-Bismol.
Tampons
You don't want your white dress to be ruined because your time of the month decides to come early! Bring a spare tampon or two.
Mints and Dental Floss
Make sure you special kiss isn't ruined by onions from lunch or a piece of lettuce in your teeth!
Stain Remover and Lint Roller
Stains happen, but a portable stain remover stick will ensure you can get any stain or fibers off your white wedding dress.
Black Socks
While these are not for your or your bridal party, one of the groomsmen will forget socks. Bring an extra pair of socks that matches the groom and the wedding theme.
Did you pack everything on the list for your special day? With this emergency kit, nothing can surprise you during your wedding and wedding reception.
At Royal Palace Ballrooms in Hialeah, we specialize in weddings. Choose us as your wedding venue and all you need to take care of is the emergency kit!